Emergency tree removal near me
We help you with your emergency tree service
Emergency tree removal Warwick RI
---
You're in a bind and need help fast.
We know you have a lot going on, so we make it easy to get the help you need when you need it most. Our team is available 24/7 for emergency tree removal services. We are serving the whole Rhode Island state. Our trained professionals will be there within an hour of your call. Your trees are damaged from storms or fallen branches? They will safely remove any debris that may pose a danger to your property or family members.
You've been putting off getting rid of those dead trees around your house? Now is the time to take action! Call us today at (401) 298-2386. We offer free estimates on all types of tree removal services. Including stump grinding and more! We can even provide same day service if needed! Don't wait another minute,call PVD Tree Removal today!
Schedule an appointment with PVD Tree Removal before it's too late!
Emergency tree removal service Rhode Island.
---
When emergency strikes, we have you covered with our team of expert arborists.
We all know that regular maintenance and pruning by a qualified professional is essential. It helps protect against preventable fallen trees which can damage property or cause injuries. But not everything may be prevented from the wind and snow storms. Every fall, winter season (or spring) in Rhode Island come with fallen trees. So what to do when emergency tree removal is necessary and you don't have the time to do it yourself?
You have a big fallen tree near your house? Did it fall on the road and it is becoming a threat to people or properties? You need help!
PVD Tree Removal is here to help you with any emergency tree removal service that you might need. Our tree removers will help you go through this issue. If you are in need of emergency tree removal services, call us!
24 hour tree service near me
---
Most often emergencies do not happen during normal office hours. We know it. This is why you can reach Warwick tree service specialists at any time.
When you call, we will dispatch our emergency crew to your location as soon as possible. You will get the help you need when you need it most. No matter what time of day or night it is, we are here for you!
Our experts will be able to assess the condition of your trees and determine whether they can't be salvaged or if they need to be trimmed and cut.
Remember, when emergency strikes, we have you covered! Call PVD Tree Removal!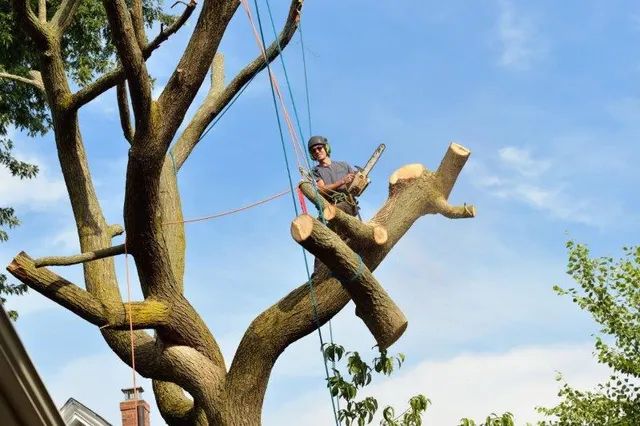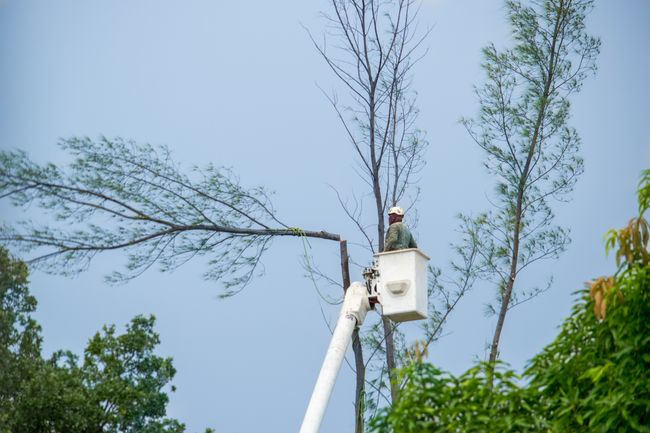 Crane tree removal in warwick RI
---
Storms can cause a lot of damage to trees. They might be broken or damaged by the wind and snow. Which makes them even more dangerous. When your tree is in such condition you need fast help from someone professional and experienced.
You probably know that we specialize in removing trees with the use of crane. This method will guarantee safety for your property and family.
If you have a tree that needs to be removed urgently, call PVD Tree Removal! We will take care of everything for you and make sure the job is done safely and quickly.
PVD Tree Removal provides quality service and professionalism you can depend on. So when emergency strikes, don't hesitate to call us.
What are the signs a Tree is At Risk of Falling?
---
When a tree falls, it poses an imminent risk to public safety and must be removed immediately.
If you know what to look for, it is be possible to identify which trees are most likely going down during a storm and remove them before they do.
Before storm season, it's a good idea to have an arborist inspect your property's trees and mark those at high risk of falling during storms. This way you can take steps in advance for safety!
Here is a list of signs that a tree is going to fall:
Your tree has branches that are dead.
The tree has hollow spots in the trunk.
Rotting Roots
The leaves are missing next to the trunk.
The trunk of the tree has big cracks and bark that is missing.
This tree has branches that are growing in a tight v-shape.
The tree is leaning.
The roots of tree are exposed
There is an area on the tree where it is soft.
Your tree has fungus growing on it.
A tree was hit by lightning.
Your tree is infested with carpenter ants.
Vines are growing on your tree.
If you have some signs of this kind on your tree, do not wait and call a professional tree remover. You never know when a storm is going to come and cause damage. It's important to stay prepared.
Tree removal storm damage
---
Trees are important for the environment. They provide shelter, clean the air, reduce dust and noise pollution… But when they fall on your house or car you need to know how to act! Trees are strong natural elements. But they might fall down due to bad weather mainly freezing rain or storm.
The damage of a fallen tree is not always easy to fix. This is why you have to call a professional tree remover to help you.
If you need help because of fallen trees call PVD Tree Removal! We will be there for you in no time! When we arrive at your place we assess the situation first. Then we give you the best solution depending on the extent of damage and extensiveness of your property.
Remember, we are the best tree removers in Warwick RI! So don't hesitate to call us for help.
When is an emergency tree removal needed?
---
We know that emergencies are not always safety issues. We'll be there with our friendly, professional approach to take care of any need you have in a limited time window! Homeowners often turn to PVD Tree Removal for removing an unsightly tree an their property to sell. We can help you make a good first impression to potential buyers.
In business, Emergency Tree Removal is often needed to help protect inventory or to clear the way for new construction. We are available 24/7 so that we can be there when you need us!
Whatever your need, PVD Tree Removal will provide a quick, safe and affordable solution! So don't hesitate to call us.
Why reaching out to Pvd Tree Removal?
---
Here are some of the reasons to work with us:
Emergency tree removal available 24/7
Prompt response time
We specialize in crane tree removal
Our arborists are trained and licensed
We offer competitive pricing
When you need emergency tree removal, you need to know that the company you reach out to can handle the job quickly and safely. PVD Tree Removal is your best bet for emergency tree services, and we will be there as fast as possible.
FAQ Questions Customers Ask!
What do I need to know when hiring a tree service?

When hiring a tree service, it's important to know what kind of services they offer. Some companies only offer removal, while others offer pruning, trimming and even fertilization. It's important to find a company that offers the services you need.

It's also important to know what kind of equipment the company has. Tree services often times use industrial grade bucket trucks to get the job done. Find out what equipment they will be using for your job.

You should also find out if the company has insurance. And if so, what kind of insurance coverage do they have in place in case you need it later on.
How do I reduce my tree removal Costs?

You should eliminate any bids that are too low as a cost-saving measure. But there are several legitimate methods to save money on the project:

Grind the stump yourself or leave it there. Stump grinding is an essential process for removing stumps after they have been cut down. The costs start at about $100 or 2-3 bucks per inch of diameter. It can quickly add up to several hundred dollars! If you know someone that has experience with it, you can rent a stump grinding tool.
Debris removal can be expensive, especially if a crew is needed to do the job. You can save money by removing the debris yourself with the help of some friends and family.
Use the wood to heat yourself. If you have a firewood stove or fireplace, you can use the wood from your tree to heat your home. You'll save money by not having a company taking away the wood.
Look at smaller companies. Tree services are often expensive because of the equipment they need to bring to the job. Smaller companies may not have all the fancy equipment, but they can often do the job just as well as the big guys. And you'll save money by going with them.
If you have multiple tree to cut, ask for a discount! The more trees you have to have removed, the bigger discount you can get from a tree service.